Italian Subs: il divertimento dei sottotitoli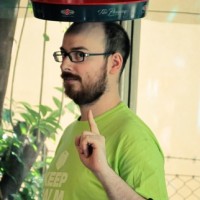 Sono tra i principali produttori di sottotitoli italiani per film e serie tv straniere. Nascono nel 2005 e in pochi anni raggiungono più di 200mila appassionati che vogliono sapere quel che accade ai loro beniamini cinematografici oltre-oceano senza dover attendere il doppiaggio italiano. È la community di ItalianSubs.net (per gli amici ItaSa) esponenti del crescente fenomeno del "fansubbing", ovvero la produzione di sottotitoli "non ufficiali". Un movimento dal basso, tipico dell'era del Web della convergenza, che coinvolge migliaia di produttori e fruitori in tutto il mondo. Tra conoscenza delle lingue, passione per le serie tv e disponibilità (gratuita) verso gli altri. Abbiamo intervistato Francesco "zefram cochrane" (nella foto), membro dello staff di ItaSa che ad oggi conta 6 amministratori, 49 revisori e 287 traduttori.
Francesco, come e quando nasce l'idea di creare un sito per raccogliere sottotitoli e traduttori?
Nel 2005 in Rete era già presente la pratica di realizzare sottotitoli per serie tv e film stranieri. Ma mancava un luogo dove raccoglierle, indicizzarle e renderle facilmente scaricabili. Iniziammo con un forum e le prime produzioni erano basate esclusivamente sulla capacità del traduttore di comprendere il parlato in lingua originale. Ad oggi abbiamo superato i 40mila sottotitoli, compresi i resync (sincronizzazione del parlato con il sottotitolo, ndr), mentre il numero di episodi e film tradotti supera i 20mila.
L'evoluzione della Rete e della tecnologia ha consentito di fruire con maggiore rapidità e fluidità dei contenuti in streaming. Questo ha senz'altro contribuito alla possibilità per gli italiani di poter accedere a contenuti in altre lingue. Cosa spinge un utente a guardare uno spettacolo sottotitolato?
Credo che inizialmente la gente guardi qualcosa coi sottotitoli per una questione di rapidità di fruizione, dopodiché (o almeno, a noi è capitato) ti innamori dei contenuti in lingua originale, delle voci degli attori, delle espressioni bizzarre e degli accenti dei personaggi (mi viene in mente ad esempio il Dottor Rush di Stargate Universe, alias Mr. Gold in Once Upon A Time, ovvero Robert Carlyle)
L'Italia è uno dei pochi paesi nei quali i film vengono doppiati: all'estero, infatti, permane l'utilizzo dei sottotitoli. I doppiatori italiani hanno fatto sicuramente scuola. La diffusione dei sottotitoli porterà alla loro scomparsa?
La diffusione dei sottotitoli non farà di certo scomparire il doppiaggio, prima ci vorrebbe una conoscenza dell'inglese che si otterrebbe insegnandolo in modo decente a scuola, ovvero l'esatto opposto della direzione che questo paese ha scelto di percorrere. I nostri sottotitoli però spingeranno più persone a guardare i telefilm in lingua originale e, a volte, i network a cambiare il palinsesto come è successo con il finale di serie di LOST o serie quali The Listener, che sono andate in onda in simultanea in tutto il globo.
Quali sono i sottotitoli più richiesti dai vostri utenti (un film in particolare o una serie tv etc.)?
Va a momenti, ovviamente, rimane sempre questa o quella serie scoperta e ovviamente ci sono alcuni che ne sono già fan ancor prima che ne sia andato in onda un solo minuto, da cui la richiesta di sottotitoli.
Qual è stata la traduzione più difficoltosa?
Non saprei dirti: a occhio direi qualche serie dall'audio (ovvero di cui non si dispone di sottotitoli in lingua originale, ndr) o qualche comedy con giochi di parole ardui da rendere, ma non occupandomi io di comedy non saprei dirti con certezza. Il primo gioco di parole che mi viene in mente essere stato ostico e del quale ancora oggi non sono soddisfatto appartiene a Warehouse 13: in un episodio si scopre che un personaggio si chiama Ophelia e uno dei protagonisti le dice Ophelia-boobs, che suona come "I feel your boobs", "ti palpo le tette". Sono piuttosto convinto che ci sia qualcosa di molto meglio di "Oh, feli… citette".
Si è soliti pensare che si traducano solo film e serie americane. È così oppure c'è un mercato straniero molto più ampio (che voi contribuite a far conoscere attraverso il vostro lavoro)? 
Le serie statunitensi sono sicuramente le più tradotte, ma ce ne sono diverse canadesi (io faccio Continuum, ad esempio) e un sacco britanniche, una per tutte: Doctor Who.
Nel caso di spettacoli di eccellenza, può capitare anche che i vostri traduttori facciano le notti per poter fornire i sottotitoli a tempo di record, poche ore dopo la messa in onda del filmato in lingua originale. Ma il lavoro è a titolo gratuito. Perché farlo?
Ovviamente non posso che rispondere a titolo personale: tengo molto a ItaSA, mi dà molta soddisfazione vedere il mio nick scritto nei sub, poter interagire con gli utenti, andare in giro per le convention come ospite e in ultimo, ma non per importanza, il mio inglese è migliorato moltissimo, direi che i motivi sono parecchi.
Considerando che offrite gratuitamente il vostro lavoro, quali sono i vostri introiti, se ve ne sono?
Viviamo grazie ai nostri utenti e alle loro donazioni a ItaSA. Con i soldi che riceviamo teniamo in piedi il server, cambiamo i pezzi che si rompono, paghiamo il dominio e la banda, ecc. Nemmeno un centesimo delle donazioni rimane in tasca a noi, al massimo agli utenti, sotto forma di premi dei concorsi che facciamo di tanto in tanto.
Qual è il profilo medio dei vostri traduttori?
Le età sono le più disparate: vanno dai 17 agli "anta"; non saprei nemmeno dirti l'età dei più anziani, sicuramente sono sopra i 50 comunque. Il rapporto numerico tra traduttrici e traduttori è di 1,4 a 1, a occhio. Poi sono moltissimi gli studenti ma non saprei dirti se sono così tanti più dei lavoratori, ad esempio noi amministratori siamo tutti lavoratori.
Poiché il vasto pubblico della televisione deve attendere il doppiaggio italiano per poter vedere una nuova serie straniera, dateci qualche anticipazione: cosa dobbiamo attendere con ansia (o vederla subito in originale con la vostra traduzione)?
Cose interessanti da aspettarsi… non sono sicuro che ci siano nuove serie cult in arrivo: senz'altro c'è molta aspettativa per il nuovo Dottore (Doctor Who), per Marvel's Agents of S.H.I.E.L.D. (della famiglia Whedon): io incrocio le dita per la serie ispirata a "12 Monkeys" (L'esercito delle 12 scimmie) e pare sia piuttosto attesa pure "Sleepy Hollow".
Per tutti coloro che fossero interessati a partecipare alle traduzioni di ItaSa, o a capire semplicemente come si realizzano i sottotitoli, c'è un post ad hoc sul loro sito. Se siete interessati a saperne di più sulla storia e le loro attività, viene in aiuto Wikipedia. Se, infine, siete già dei subbers raccontateci la vostra esperienza!